About Ruslan Scherbakov
The beginning
I was born on 14.09.1969 in a very small town Staraya Russia, near Great Novgorod. At the age of 4 I learned to play chess and seriously started to study chess at 11, when my family moved from the Great Novgorod region to Cheliabinsk in 1980. From 1981 to 1992 I attended the Russian nation-wide chess school headed by GM Alexander Panchenko. One of the best Russian coaches, he made a great impact on all of his students. Many of them have become grandmasters - the most famous are Sergey Rublevsky, Alisa Galliamova, Dmitry Jakovenko, as well as Maxim Sorokin, Mikhail Ulybin, Alexander Baburin, Svetlana Prudnikova, Sergey Volkov, Alexander Volzhin and others...
During my last few years at the school I already worked as a trainer and in 1990 I assisted Panchenko as a coach to the Russian team (Kramnik, Rublevsky...) in the Soviet youth team championship. At that time I was able to offer Vladimir some advice in these Slav Openings! :)
My chess career
In 1987 I became a Soviet chess master, in 1989 an IM and in 1992 a GM. Here are some of my best results: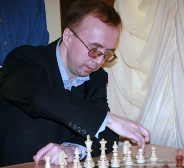 1986 - USSR students Championship, Volgograd, 1 place (+8=5)
1987 - Russian U20 Championship, Anapa, 1 place (+6=5)
1989 - Soviet junior team championship, Kramatorsk (Ukraine) - 1 place in the team of Russia (+2=6)
1990 - Russian Championship, Kuibyshev (now Samara), shared 1-5 places with Makarov, Sorokin, Kramnik and Kharlov (+4=11)
1992 - Helsinki (+4-1=4), gained first GM norm.
1992 - Belorechensk (+8=5), achieved final GM norm.
1992 - Europe Club Cup, 2 place with the team of "Poliot" (Cheliabinsk). In the semi-final we eliminated "Solingen", having started with 4 losses in the first match! Unfortunately, in the final match against "Bayern" Munich my victory in the second leg was our only success...
1992/93 - Hastings Challengers, 1 place (+7-1=3). Having 3.5 from 4, I lost to Colin McNab in 9 moves but somehow recovered! As far as I remember, I never scored any points playing on the 1st of January... :)
1994 - Russian team championship, 1 place in the team of "Kadyr" (Chelyabinsk), played on the 1st board.
1995 - Europe Club Cup Ljubljana (Slovenija) - 3rd place in the team of "Kadyr" (Chelyabinsk), played on 2nd board.
2000 - Russian team Championship, 2 place (shared first) in the team of "Tomsk", +5=6
However, as it seems to be that I always tended to be a coach rather than a player, helping my friends and enjoying their successes. From 1996 I've been a second of 4-times Olympic Champion Sergey Rublevsky during some of his best tournaments - the most recent one was the World Cup in Khanty-Mansijsk, 2007.
From 2002 - 2004 I was a coach in India, conducting numerous coaching camps and training the best youngsters, such as Parimarjan Negi, who was once brave enough to come to Chelyabinsk in winter. Later, in 2006, he came to Satka and scored his final GM-norm and managed to beat Magnus Carlsen's record of the second youngest GM in chess history by just 5 days! Some other Indian players were also coming here while Abhijit Gupta has even participated in the Satka city championship in December 2005! I also keep a nice memory training the Indian womens Olympic team for the 2002 and 2004 Olympiads...
Since 2005 I've been thoroughly working with Olympic and twice European Champion GM Kateryna Lahno, one of just a few female players, who can really compete with men and she has already collected many scalps!
Ruslan and family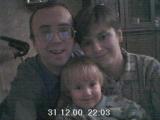 In the same 2005 I shifted to the countryside near the small city Satka, which is located in the middle of the beautiful Ural Mountains, 200 km from Chelyabinsk, being motivated by a new interesting program of chess development, initiated by local business and supported by the authorities. Its main goal is to help in growing a generation of intelligent people in this industrial city. Since that time chess is a subject in schools here and about 2000 kids are playing chess among 50 000 population. Many interesting chess events took place here and many famous chess personalities visited our hospitable city. In 2005 the Ural regional junior team, which I trained, has won the Russian youth team championship in Satka, in which we have overtaken strong teams from Moscow and St.Petersburg among others. The World Champion Boris Spassky comes here twice a year to conduct the school for the best youngsters of our region - in January 2010 it will be already his 16th visit!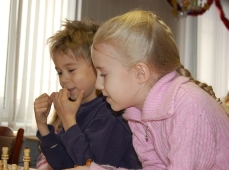 By the way, my both kids (Katya (Kateryna), 12 and Misha (Michael), 8 years old) are also playing and have already won some medals at regional championships. Yet recently they like to play tennis very much... :) At the end of 2012 our second daughter Anastasia was born.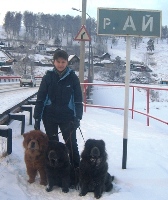 My wife Tanya (Tatiana) somehow manages with us, all these people coming from all over the world, living in their own "chess world"... :) Many many thanks to her for her patience!
I should say the same to our chief Tony and, of course, to you, dear reader, if sometimes my next update comes a bit late... :) I enjoy working here on the ChessPub very much and will always do my best!