About the authors
GM Eric Prié

Hi! I'm Eric, I am currently 41 years old, married with 3 children, and live near Montpellier, in the South of France.
A brief bio: I was member of the French national team from 89 to 96, in 95 I was champion of France and was awarded my Grandmaster title, I have trained the (very) strong young French GMs Etienne BACROT and Laurent FRESSINET.
More recently, I receive a part-time salary as the French National Youth trainer, I was 2nd in the 4NCL 2003 with Guilford Ad's (that's the British league, with fellow ChessPub members Tony Kosten and Glenn Flear), Vice-champion of France in 2000, winner of the French Cup in 97, and finalist in 2000 and 2002 with my long-time French team Montpellier.
Aaron Summerscale
Aaron Summerscale is a full time chess professional, combining a playing career with teaching and writing about the game. His many successes on the international and domestic circuit led him to be awarded the grandmaster title in 1997.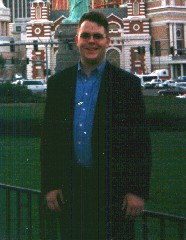 As a coach, Aaron has been involved in teaching some of England's best young players.
His first book "A Killer Chess Opening Repertoire" was published in 1999 and features a number of the slightly off-beat systems which are included on the site. He has also presented three GM videos on the legendary Colle-Zukertort system, together with the 150 and Barry attacks.
Aaron has enjoyed great success with some of the openings contained on the site including a win over former World Championship candidate Kevin Spraggett with the Veresov, a fine attacking win over super solid GM Bogdan Lalic with the Trompowsky and a tough fought victory over ex British Champion Matthew Sadler with the Colle-Zukertort. Aaron is a firm believer in the positive value of surprising your opponent in the opening and the material contained on this site will certainly help you to do that!